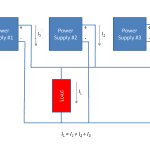 In part one of choosing a programmable power supply we discussed voltage, current, cooling and power requirements for your application. Here, we explore some of the more subtle aspects of the specification. We discuss parameters such as accuracy and repeatability, the different between ripple and noise and show how power supplies can be connected in series or parallel to increase the maximum voltage or current whilst delivering the same technical performance.
Accuracy, stability & repeatability
Accuracy of display is how close to the voltage and current display reflect the actual voltage and current being supplied. Typically, these range from 0.001% through to 1% of full scale. Note that the analogue read-back accuracy won't be the same as the display or RS-232 because different circuitry is used to present the value. e.g. LCD readouts will be limited by the number of digits it can display.
Accuracy of set point is the difference between the "demand", to what is actually delivered. Again, these range from 0.001% to 1%. Power supplies that offer multiple programming interfaces, will specify different accuracy figures for each interface.
Stability is often quoted as the short-term drift of output voltage and current. A stable output will resist changes in ambient or internal temperatures and other aging effects over time e.g. stability over 8hrs = <0.5%.
Repeatability is the degree to which a user can leave one set point, perhaps due to a power cycling event, and achieve the same output values at a later point in time. The built-in monitoring of programmable power supplies makes this relatively easy to check.
Ripple & noise
Ripple and noise are measures of how much "high frequency" variation there is in the output (i.e. NOT drift).

Ripple is the variation specifically caused by the switching within the unit and is usually in the tens of kHz region. It can change in frequency depending on the operating point of the power supply and its design.
Noise is a more general specification of the broadband noise present on the output of the power supply. It should always be quoted with a bandwidth and often in the manual it specifies the test method. Sources of noise may include:
high frequency components of the switching
clock signals for microcontroller
thermal noise from feedback resistors
1/f (pink) noise.
Performance at low output values
All power supplies are specified up to a maximum output voltage. However, maintaining stable operation at low output values requires the power supply to operate with a very low modulation index i.e. very short on/off periods in the switching. If you need close control at these low operating points it might be a good idea to try out a unit before buying, as the behaviour can be difficult to predict.
Voltage reversal (inductive loads)
If your load is inductive, or has stored energy, you may need to take additional precautions to protect the power supply. The outputs are not designed to experience a polarity reversal which can happen with an inductive load if the current is stopped. Adding an anti-parallel (freewheeling) diode gives the current a path through which to decay, avoiding a large voltage spike. If the load is capacitive with large amounts of stored energy, a series diode will reduce the risk of current flowing back into the power supply damaging sensitive components. Some manufactures can incorporate a diode into the power supply.
Power supplies in parallel and series
You may want to use two or more power supplies in series or parallel to generate a larger voltage or current with the same technical performance. Most power supplies support both methods of operation, usually configurable via a communication interface. If a system should be expandable or you are unsure what the maximum voltage or current ratings will be, a power supply with these operation modes could be very useful for you in the future.
Series operation allows increased voltage across the load
Parallel operation increases the amount of current
Series operation
Series operation – Though conceptually quite simple, connecting power supplies in series is problematic because of the voltage isolation required between each terminal and the chassis. For example, two 600V power supplies in series could provide a maximum voltage of 1200V with respect to the chassis. However, most capacitors used in the power supply filters are not rated to withstand this voltage.  If you require a voltage that is higher than the isolation spec, then you may need to consider another power supply, probably based on a different technology. For example one, that has a high voltage multiplier section on the output which supports higher voltages without the need for series operation.
Unlike parallel operation where a master/slave configuration is typical, all the power supplies in series operation need to be programmed individually.
Parallel operation
Parallel operation of power supplies with the same voltage increases the available current and still otherwise retain the specification of a single unit. Typically, this is achieved with a "current sharing pin", which is used to make sure the separate power supplies share the load evenly. Many power supplies support up to 8 or 9 units in parallel, and still remain stable and well behaved. More advanced programmable supplies have a data link between the power supplies with a master supply configured to provide one unit which shows the total current on its display.