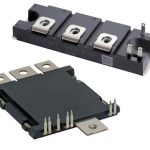 In today's fast-paced technological environment, time is of the essence and PPM Power's commitment to supply
Silicon Carbide
(SiC) modules aligns with the ever growing need for high performance components in power electronics.
1.2 kV SiC modules capable of supporting current ranges from 100 to 980 A address a range of applications and power levels. Availability on most is 20 weeks, with popular modules available in as little as 6 weeks!
The 20 week lead time covers three product lines; SiC Automotive Modules, SiC MOSFET's and SiC Power Modules.
All benefit from high voltage breakdown, high current density, high operating temperatures, high switching frequencies and low switching loss. This makes them a preferred choice for applications such as electric vehicles (EV), aerospace and high efficiency renewable converters.
SiC Automotive Modules – RoadPak takes advantage of SiC technology for e-mobility and automotive applications.
SiC MOSFET Modules – SiC LinPak devices deliver a massive reduction of switching losses, an increase in current density and higher maximum junction temperature.
SiC Power Modules – (SiC) MOSFET modules integrate a Schottky free-wheeling diode in a single device, delivering a low profile and compact package.
PPM Power also supports high performance DC link capacitor solutions to help deliver maximum systems efficiency with loop inductances below 10 nH.
For more information and technical advice on selecting the correct module for your application, contact the PPM Power team.