High power switch manufacturer Astrol Electronic has developed a new series of DC breakers with up to 1500V DC voltage capability. The liquid cooled units allow bi-directional current flow and can be used in high or low side power switching. Current ratings range from 500A to 5kA.  Switch-off current ranges up to 20kA. The DC breakers are designed to maximise flexibility when integrating DC-grids and protect against short-circuit currents in any part of the grid. Various voltage and current levels are realized using a modular structure and different configurations based on 3.3kV, 4.5kV and 6.5kV Insulated Gate Bipolar Transistor (IGBT) and diode modules.
Fast Fault Interruption
A solid-state breaker must interrupt the full current in microseconds. With such a time constraint, local fault protection must be performed autonomously by the switch control system without the need for external control or fault detection. In addition to rapid over-current protection, the breaker can be programmed to open according to a time-current profile. This allows the overall system to reconfigure the behavior of the DC-Breaker within certain pre-defined boundaries. The fast opening time of solid-state breakers limits the fault current and minimises the negative impact on the load. The current does not reach damaging levels and can be interrupted without forming an arc. Voltage reversal is therefore not required.
Block Diagram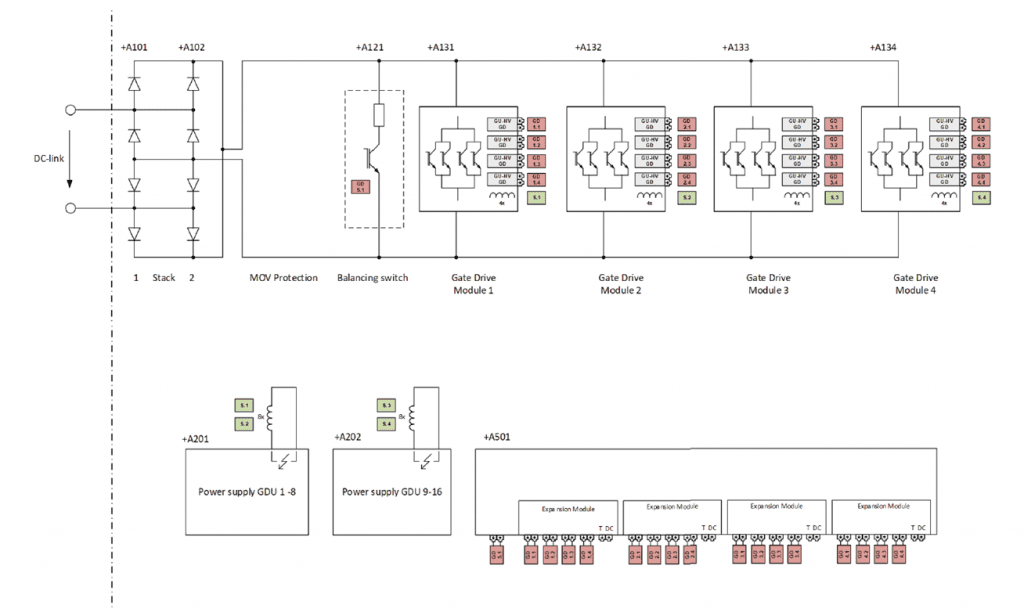 Self-diagnostics and control interface
The internal self-diagnostic capability of the DC breaker units includes the gate drive unit as well as coolant temperature and pressure at both inlet and outlet. The interface to the overall controller is optical (glass or plastic) Modbus-TCP. However, other protocols are available on request.
Features
DC-Voltage Capability up to 1500V
Current rating 0 – 5kA
Switch-off current up to 20kA
Very short off time in μs range
Totally isolated to the main grid
Can be used in high or low side power switching
Bidirectional current flow
Liquid cooling
Internal self-diagnostic capability
Gate Drive Unit
Water In- and Outlet Temperature
Water In- and Outlet Pressure
Interface to overall controller
Optical (Glass or Plastic)
Modbus-TCP
Other protocols on request
DNV-GL type approval (pending)