The custom design capabilities offered with Heine's Load Banks ensure PPM Power customers get exactly what they require.
Power Capability
The Load Banks are made using robust technology. They have a performance range of up to 5 MW and three classes of power:
0-100 kW "moveable"
100-1000 kW "moveable and stationary"
1000-3000 kW "high performance load container".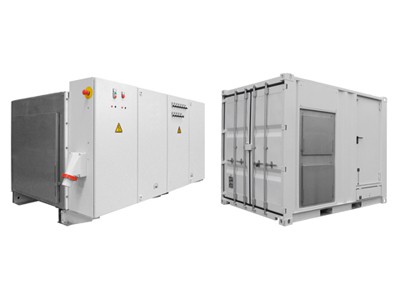 Resistor Technology
The resistor elements can be made up of various resistor types, using a variety of resistance and stainless steel alloys. The separate resistor units are cooled by an axial fan and, through an optional PLC controller, the separate load levels are switched on and off to give the required loading.
It is also possible to operate the system by remote control and to store and transmit specific data about the load bank to a distant or external control centre.
Applications and Markets
These Load Banks can be used by energy providers, manufacturers of motors and generators, renewable energy, laboratories and more for:
Testing or discharging battery systems
Technical acceptance tests
Load tests of motors, generators, ground power units, diesel generators and gas turbines
Protecting equipment against damage.
To find out more about the full benefits and custom capabilities of these systems, please contact us to speak to one of our technical experts.
Useful Links