PPM Power has added EBG Resistors' 1776-X series to its range of resistors. Forming part of the high voltage resistor range, the series of resistor dividers are designed to fit multiple resistors, which divide the supply voltage between them.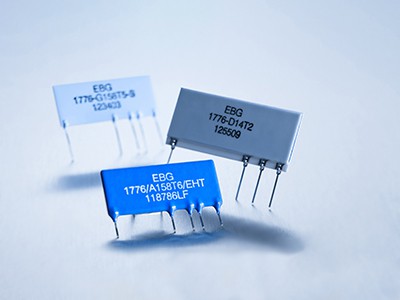 They have tight tolerances and high stability thick film resistive element, making them suitable for a wide variety of measurement applications such as multi-meters, multi-range instrumentation and range-switching devices.
Customised Resistance
The 1776-X series have resistance values of between 900 Ω and 10 MΩ. The customer is able to choose between three and six decades from the starting ohmic value. If one of the 28 standard units doesn't provide the ohmic values needed, then customised values are available.
Stable Performance Technology
They have an operating voltage of 750 V to 1.2 kV and a voltage coefficient of < 0.05 ppm/V. The products are stable at high power and during pulse loading thanks to EBG's METOXFILM technology, which is a proven technology in delivering high stable performance. They come in an easy-to-install flat style package and a non-inductive design.
Contact our sales team to find out more.
Useful Links