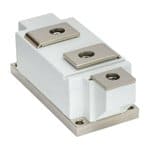 Hitachi ABB Power Grids is expanding its product portfolio to include 1.8 kV and 2.2 kV class bipolar devices. The
60Pak Thyristor and Diode modules
offer currents up to 890 A.
Diode / diode, thyristor / diode and thyristor (phase leg) configurations are now available from PPM Power. The modules are offered in a standard industrial housing, with mountings compatible with the existing 60mm module market. They can be used as a drop-in replacement or a second source for existing systems.
The key benefits of the 60Pak module are high performance, reliability and increased overload capability.
Applications
Soft starter phase control for AC motors
Input rectifiers in LV and MV drives
Power quality and phase shift compensation
Industrial motor drives
Reliability
The 60Pak devices use an internal clamping system, with dual springs to provide equal force distribution over the die. The assembly is pressed by the main spring to the baseplate (cooler), instead of the soldered connection that other packages frequently offer.
While all 60mm modules have internal clamping, the 60Pak dual spring construction improves performance and provides greater reliability by creating more homogenous pressure across the silicon chip area.
Force distribution of the 60Pak two-spring system (a) compared with typical solutions presented on the market (b and c)
Comparison of dual spring force distribution (left) with standard force distribution (right)
The thyristor and diode modules range will be expanded rapidly to different voltages and configurations. Please contact us to speak to one of our technical experts.
Useful Links