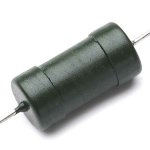 Kanthal has released the BA series of ceramic resistor series into bulk production. The BA series offers a maximum resistance of 1MΩ and voltages up to 20kV.  The series now also includes the new 100 and 200 axial lead resistors.
Excellent performance with bulk construction
Kanthal's non-inductive ceramic resistors are designed for use in applications requiring high voltage, high energy and high peak current resistors. An inherently non-inductive resistor is produced through the bulk construction, rather than meanders or turns. This enables the uniform distribution of energy throughout the whole ceramic resistor body. The resistors offer the best performance when high peak power and high energy pulses must be managed in a limited volume.
"BA material extends the pulse energy capability of Kanthal's products into applications requiring high ohmic values, up to 1MΩ", says Phil Surman – Sales Director at PPM Power. "Space and weight are saved by specifying energy absorption, rather than average power in low-duty applications like inrush current limiting in drive systems."
Ideal applications
• Electric drives
• Voltage balancing
• DC coupling and filter cap discharge
Even higher resistance levels
The BA resistor series expands Kanthal's range to include higher resistance levels than are available through its SP and AS materials. BA resistors are designed for high energy and voltage pulse applications that require those higher resistance levels. Also, the maximum continuous operating temperature of 230°C is achieved through the choice of coatings. Kanthal have also produced the new 500BA non-inductive bulk ceramic slab resistor in the same range.
About Kanthal
Kanthal is a high-technology engineering group from Buffalo, USA. Now part of the Sandvik Group, Kanthal is an expert in industrial heating and materials technology. Kanthal has been part of the Sandvik Group for over 20 years and has since become a pioneering brand in the industry.
Useful Links