SanRex has released a new line of Three-Phase Diode Modules for three-phase rectification, available in 65, 75 and 100 A current ratings. They offer a major size and volume reduction over standard industry packages. Compared directly to other 1600 V 100 A three-phase rectifiers, the compact SanRex module has a > 50% smaller footprint and 90% reduction in volume. This offers a significant reduction in material costs, for cost-effective systems.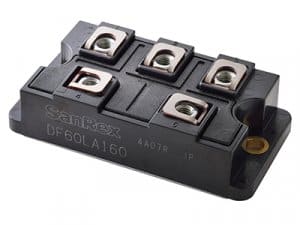 Standard industry package
SanRex compact three-phase rectifier
Reduced Manufacturing Costs
With this new product, SanRex brings PCB mount advantages to the 100 A class rectifier; reducing manufacturing costs by offering auto-insertion and wave soldering, rather than screw terminals.
Improved Thermal Management
The internal construction of the diode module has a copper heat spreader for reduced thermal resistance. With Vf reduced by more than 10%, the devices offer lower losses for a given current, reducing the heatsink size.
High Reliability
The transfer moulded and bond wire free technology used extends the product life. Testing shows three times greater thermal cycling capability than larger industry standard packages.
Useful links
PPM Power offers an extensive range of semiconductor modules from SanRex, rated up to 2.2 kV and 1800 A. Browse all the products here, or contact us to make an enquiry.