PPM Power now offers inverter test kits which include DC link cap and cooling. These solutions enable rapid, high-performance prototyping evaluation. A range of standard options with various current ratings and DC link capacitance are available. Bus structures are available for simple 2-level, 3-phase, 4-phase and centre-tapped capacitor configurations.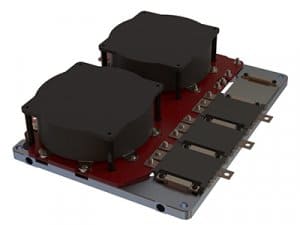 High Quality Components
Our Test Kits with Cooling are compatible with SanRex TechnoBlock modules or a range of RoadPak automotive modules and incorporate Power Ring capacitors from Advanced Conversion plus an engineered cold plate and busbar designed by PPM.
Integrated Cooling
Developed in-house by PPM, the cold plates offer high thermal performance and facilitate integrated cooling of the capacitors in a combined solution for quicker, more streamlined prototype evaluation.
Applications
These test kits can be used for a range of applications but are typically used in aerospace and automotive applications.
While this product allows customers to choose from a range of standard options, PPM Power can also offer fully bespoke test kits to suit your requirements. To find out more, call us on +44 (0)1793 784389 to speak to our technical sales team.
Useful Links
Test Kits with Cooling product page