PPM is bringing to the market ABB's LoPak medium power IGBT modules operating at 1700V up to 450A. The current configuration is a 1700 V phase-leg (half-bridge) IGBT module with copper base plate, using ABB's uniquely designed SPT++ IGBT and diode devices.
From June 2020, ABB's improved 1700 V LoPak1 modules will be available to purchase with the introduction of an optional pre-applied Thermal Interface Material.
This new material improves heat flow, which effectively controls temperatures within the module body by carrying heat from active devices to the external world.
TIM layers stay in place and deliver effective thermal performance over many cycles, unlike heat conductive paste, by spreading out to provide a homogeneous coating at the base plate/heat sink interface, showing virtually no change in thermal resistance.
Following a temperature cycling test of 9,400 cycles, where TIM is used instead of heat conductive paste, the following results were achieved:
7% improvement in the average thermal resistance for the entire thermal pathway from the IGBT junctions to ambient
11% improvement from case to ambient
| Thermal resistance, average over 9400 cycles | Paste | TIM | Improvement |
| --- | --- | --- | --- |
| Junction to ambient (K/kW) | 114.75 | 106.66 | 7 % |
| Case to ambient | 73.92 | 65.93 | 11 % |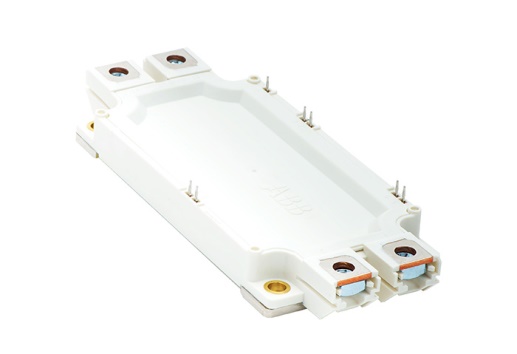 ABB's LoPak 1.7 kV 450 A IGBT module