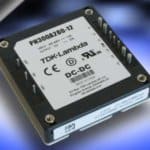 The PH-A280 series of high voltage input DC-DC converters from TDK-Lambda are now available with 300W output. The DC-DC power modules have a range of 200 to 425Vdc, and are suitable for use in applications using a 380V DC bus such as data centres, telecommunications and renewable energy. The four new models are rated at 12V / 25A, 24V / 12.5A, 28V / 10.8A and 48V / 6.3A. These extend the 50 to 150W PH-A280 product range which already includes outputs of 3.3V, 5V, 12V, 24V, 28V and 48V. 
Greater Adjustment Range
The 300W models have a greater adjustment range of -60% to +20% to accommodate non-standard voltages and can provide full load with -40°C to +100°C baseplate temperatures.  The range offers efficiencies of up to 92%,
Hardware Format
The units follow the industry-standard half-brick package (61.0 x 12.7 x 57.9mm).
Cooling
The converters can also be conduction cooled making them suitable for use in sealed outdoor enclosures or liquid cooled applications.
Five year warranty
All PH-A280 modules include:
Five-year warranty,
Remote on-off
Over-current and over-voltage protection.
Isolation
The series is fully isolated with an input to output isolation of 3,000Vac.
Environmental certification
Certified to IEC/EN 60950-1, UL/CSA 60950-1 with CE marking for the Low Voltage and RoHS2 Directives.
Useful links
High Voltage DC-DC power supplies