One of the few disadvantages of SiC MOSFETs is that the technology requires careful consideration of the gate driver circuit. But, an intelligent gate driver can provide a lot more than just optimised switching performance…
Silicon carbide – better than silicon
Silicon Carbide (SiC) MOSFETs have a number of key benefits over Silicon IGBT's for high power applications such as battery charging, traction drives, induction heating, renewable energy inverters and welding. Switching and static losses are lower.  Reverse recovery losses are almost nil. Also, there is relatively little change in loss as switching frequency is increased, resulting in efficient operation at hundreds of kHz.  Moreover, SiC does not exhibit deterioration of these parameters with temperature unlike IGBT's, avoiding the need to derate the current specification for operation at higher temperatures. System level efficiency gains are therefore available for lower cooling needs, higher power density and reduced size and weight.
Gate driver circuit needs consideration
Careful consideration must be given to the gate driver circuit to optimise the performance of the device. However, an intelligent gate driver can provide more than just optimised switching performance:
Active clamping (augmented turn-off) means lower switching losses, better protection and reduced ringing.
Advanced fault detection means enhanced reliability and better diagnostics
Configurability enables design flexibility, voltage protection and master/slave paralleling
Active clamping (augmented turn-off)
Inserting one or more intermediate levels in the gate voltage between on and off reduces ringing, switching losses and inductance-induced overshoot voltages. In a short circuit condition, this also helps reduces stress on the component.
Augmented turn-off uses one or more intermediate voltage steps to reduce ringing, losses and overshoots.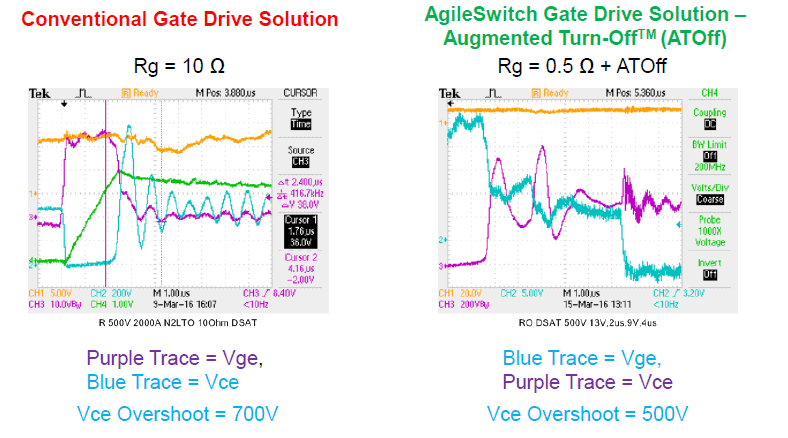 The two plots above contrast a conventional gate drive solution with augmented turn off. The result is a reduction in Vce overshoot from 700v to 500v.
Advanced fault detection
Temperature and high voltage monitoring – An intelligent gate driver provides the isolation and functionality to support monitoring of temperature and the DC link voltage. Sophisticated monitoring means effective diagnostics and ultimately translates to improved reliability. For example, both under-voltage and over-voltage protection can shield a SiC MOSFET from voltages that would impact its long-term reliability by pulling the gate to Vgs.
Overcurrent protection – Silicon carbide MOSFETs have only a limited capability to withstand short circuits. Therefore, response time is critical. Augmented turn-off also plays an important role in controlling the aftermath of a short circuit because the MOSFET is being shut down in a high current condition.
Configurability
Software settings – Every inverter design is unique. An intelligent gate driver enables configuration of settings for :
Augmented turn-off
Undervoltage and overvoltage lockout
Desaturation detection
Dead time
Fault lockout
Automatic reset
Drivers are also configurable for parameters such as overcurrent, blanking time and response time.
Intelligent master/slave paralleling – High frequency switching requires precise synchronisation of input triggers to avoid current imbalances. Master/slave technology allows the drive signal to be split locally at the power module, resulting in better performance and reliability due to reduced propagation delay. Plug and play connectivity to slave drivers enables easy use and significant cost savings.
Summary
One of the few downsides of silicon carbide is that the gate driver circuit needs careful consideration. However, using an intelligent gate driver brings significant additional benefits such as lower switching losses, longer lifetime and reduced ringing, as well as configurability advantages such as design flexibility, voltage protection and master/slave paralleling.