PPM Power's range of LEM PCB-mounted current transducers has expanded to now include the CDSR 0.07-NPDT model.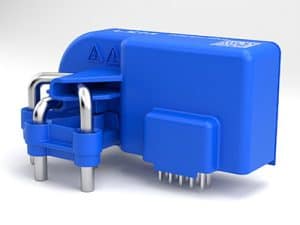 The new model is a three phase unit offering discrete signal outputs, enabling a fast, simple and safe method of detecting and triggering the trip conditions if leakage current exceeds safe levels.
Supporting a maximum current of 32 A per phase, the CDSR is suitable for integration into AC chargers ranging from 3.7 kW to 22 kW. The series has been designed as a leakage current sensor to address the growing market need for residential and commercial charging stations.  It includes options for both single-phase and three-phase architectures, capable of measuring both DC and AC currents.
The surge in electric vehicle adoption along with the introduction of new IEC Standards  has driven an increased requirement for current transducers. IEC 62955 / IEC 62752, requires the detection of a direct leakage current at 6 mA DC to avoid the home Residual Current Device (RCD) Type A being ineffective.
Highly durable, the CDSR is compatible with all EV chargers. It functions effectively within a temperature range of -40°C to 85°C and can endure acceleration forces of up to 10 G without compromising performance.
The unit boasts excellent insulation between its primary and measurement circuits. This is achieved through generous creepage and clearance distances of 13.2 mm.
Visit the PCB-mounted Current Transducers product page or contact a member of our technical sales team for more information.