Capacitors
PPM supply a wide portfolio of high voltage capacitors from specialist manufacturers including LeClanche, SBE, API, and CKE / Dean Technologies.  Standard and custom designs are available. A variety of innovative technologies are used including power ring, power link and energy cap
DC link capacitors up to 4000V / 500A
Snubber capacitors up to 2000V / 136A
Ceramic capacitors up to 50kV DC
Capacitor assemblies up to 1300V
Custom pulsed high voltage capacitors up to 100kV
Film Capacitors for applications such as inverter DC links, pulsed power energy storage and high power LLC converters.
Ceramic Capacitors for applications requiring low dissipation factor, small voltage coefficients and stable temperature characteristics.
Capacitor Assemblies
Test Kits are available to order based on the IGBT of your choice with a specified DC link capacitance.
AC Filter bank capacitors can be easily stacked into banks for networking or multi-phased applications.
FischerLink capacitor assemblies feature capacitors directly welded to copper plates and vacuum sealed with epoxy to create a robust and vibration resistant assembly. These are available with up to nine capacitors per assembly and a voltage rating of up to 1300V.
Custom Designed Capacitors
High voltage applications often need a bespoke design.  To discuss your specific requirement please call us on 01793 784389 and talk to a member of our technical sales team.
DC Link Capacitors
Power Ring
CXPLP series
Power Link
Energy Cap
GB DC series
| Capacitor Technology | Capacitance Range | DC Working Voltage | Typical RMS Current | Equivalent Series Resistance | Equivalent Series Inductance |
| --- | --- | --- | --- | --- | --- |
| Power Ring | 75 - 1500 uF | 450 - 1500 V | 500 A | 0.2 mOhm | < 5 - 15 nH |
| CXPLP Series | 20 - 400 uF | 600 - 1900 V | 100 A | < 1 mOhm | < 10.5 nH |
| Power Link | 6 - 65 uF | 700 - 1500 V | 29 A | < 6 - 17 mOhm | - |
| Energy Cap | 200 - 3300 uF | 700 - 1500 V | 53 - 100 A | < 3 - 6 mOhm | - |
| GB DC Series | 280 - 7500 uF | 800 - 4000 V | 225 - 290 A | 0.48 - 0.81 mOhm | < 30 nH |
Snubber Capacitors
GT Series
KPST Series
| Capacitor Technology | Capacitance Range | DC Working Voltage | Typical RMS Current | Equivalent Series Resistance | Equivalent Series Inductance |
| --- | --- | --- | --- | --- | --- |
| GT Series | 0.5 - 8.0 uF | 900 - 2000 V | 24 - 136 A | 0.15 - 3.15 mOhm | < 5 - 13 nH |
| KPST Series | 0.1 - 22 uF | 250 - 2000 V | 26 - 46.5 A | 2.5 - 14 mOhm | - |
Ceramic Capacitors
NX5/JX5 Series
NY2/CK1 Series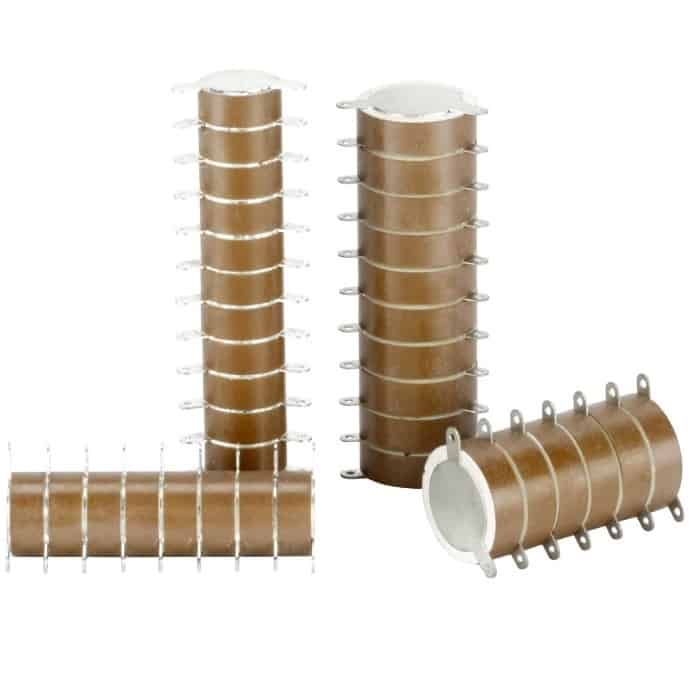 ST1/ST2/ST3 Stacks
| Capacitor Technology | Dielectric Codes | Capacitance Range | Typical Tolerance | Working Voltage | Temperature Range |
| --- | --- | --- | --- | --- | --- |
| NX5 Series | T3M, Y5P | 100 - 8000 pF | +/- 10% | 10 - 50 kVDC | -20 to 85 Deg. C |
| JX5 Series | T3M / N4700, Y5P | 100 - 8000 pF | +/- 10% | 10 - 50 kVDC | -40 to 125 Deg. C |
| NY2 Series | BxN, Y5P, Y5T, Z5U | 100 - 5600 pF | +/- 20% | 3 - 15 kVDC | -20 to 85 Deg. C |
| CK1 Series | NPO, SL | 2 - 300 pF | +/- 10% | 3 - 6 kVDC | -20 to 85 Deg. C |
| ST1 Series | Y5P, Z5U | 250 - 1000pF | +/- 20% | 6 - 12 kVDC | - |
| ST2 Series | Y5P, Z5U | 130 - 1000pF | +/- 20% | 10 & 20 kVDC | - |
| ST3 Series | Y5P | 500 & 1000pF | +/- 20% | 10 & 20 kVDC | - |
Capacitor Assemblies
Fischer Link
AC Filter
Test Kits
| Capacitor Technology | Capacitance Range | Working Voltage | Mechanical solution |
| --- | --- | --- | --- |
| FischerLink | 520 - 6750 uF | 700 - 1300 V | Welded, Encapsulated Copper Plate |
| AC Filter | 1250 uF | 480 VAC | Metal Supporting Frame |
| Test Kits | 375 - 1500 uF | 450 - 1100 V | PowerRing Capacitor & Laminated Busbar, IGBT Ready |
Custom Pulsed High Voltage Capacitors
| Capacitor Technology | Construction | Capacitance Range | DC Working Voltage | Esl/Esr at 10 kHz | Typical Peak Current |
| --- | --- | --- | --- | --- | --- |
| API DC | Metallised Polypropylene | 280 - 7500 uF | 800 V - 4 kV | Please Contact Us | Please Contact Us |
| SBE High Voltage | Film and foil | < 100 uF | < 5kV | Please Contact Us | < 67 kA |
| SBE PowerRing | Metallised Polypropylene | 5 - 5000 uF | 750 V - 8 kV | 50 nH/0.2 mohm | 100 kA |
| API Energy Storage | Metallised Polypropylene | 0.01 - 30000 uF | 100 V - 50 kV | Please Contact Us | Please Contact Us |
| SBE Extreme Energy | Metallised Polyester | < 12000 uF | < 100 kV (assemblies) | Please Contact Us | < 100 kA |
Showing all 14 results