Advanced Conversion capacitor and busbar assemblies can be fully customised to match customer voltage, ripple current and mechanical requirements. The design capability is very broad with our project team working closely with customers to make sure the optimum solution is delivered.
To enable customers to start benefitting from the technology, a range of power ring capacitors and test kits with integrated busbars are available. These provide a low inductance way to start prototyping a design quickly. Once the fine details are known, a customised and minimised solution is then put into production. Popular module packages are supported including SanRex Techno Block, HybridPACK and SP6Li.
Learn more about the Power Ring technology and contact our technical sales team on +44 (0)1793 784839 to discuss your requirement further.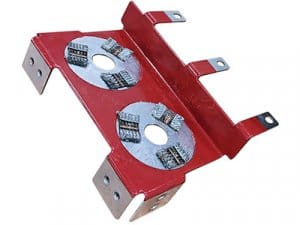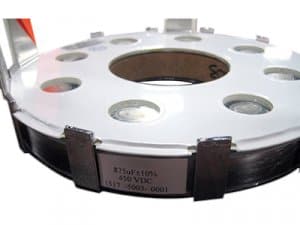 Design Process
Technical Papers
| Description | PDF* |
| --- | --- |
| Technology Overview | Download |
| DC Link Capacitor/Bus Solutions Enabling the Highest Possible Inverter Performance | |
| Optimal DC Link Topologies for Best Utilisation of Switch Modules | Download |
| Evaluation of Infineon HybridPACK™ Drive with Optimised Integrated Capacitor/Bus DC Link for High-Performance Inverter Applications | Download |
| High-Performance DC Link Capacitor/Bus Sourcing Dual Infineon HybridPACK™ Drive Inverters for EV Applications | Download |
| Optimised DC Link for Next Generation Power Modules | Download |
| Are Snubbers the Right Choice for High Performance Inverters? | Download |
| Integrated DC Link Capacitor/Bus enables a 20% Increase in Inverter Efficiency | Download |
| Integrated DC Link Capacitor/Bus Structures to Minimise External ESL Contribution to Voltage Overshoot | Download |
| Characterisation of Equivalent Series Inductance for DC Link Capacitors and Bus Structures | Download |
| Electric Drive Cost Reduction by Design Simplification | Download |
| Low Inductance – Low Temp Rise DC Bus Capacitor Properties Enabling the Optimisation of High Power Inverters | Download |
| Resonant Circuit Applications | |
| System Level Considerations for Integration of Resonant Capacitors in High Power Wireless Charging | Download |
| Improving Capacitor Banks for Alternative Energy and UPS Systems | |
| Next Generation Dry Film AC Filter Capacitor Eliminates Catastrophic Failures | Download |
| Increasing the Life of Electrolytic Capacitor Banks Using Integrated High-Performance Film Capacitors | Download |
*Advanced Conversion has acquired all of the technology and technical data of SBE Inc. References to SBE in documentation are now Advanced Conversion.
Useful Documents