Functionality
The system allows for the measurement of the E-field VECTOR (amplitude and phase for each eigen axis). The E-field measurement is totally independent from the B-field. The electro-optic probes technology allows the best possible measuring performances without disturbing the E-field.
The eoSense converter provides, per channel:
A fully analogue signal (VOUT) proportional to the E-field component to be measured. This signal is recorded and stored either by any oscilloscope (for time domain analysis) or by a spectrum analyser or a VNA (for frequency domain analysis).
The Normalisation Factor (analogue value delivered by the OE converter) or the Antenna Factor (digital value read on the PC) lead to the absolute value of the E-field signal in V/m.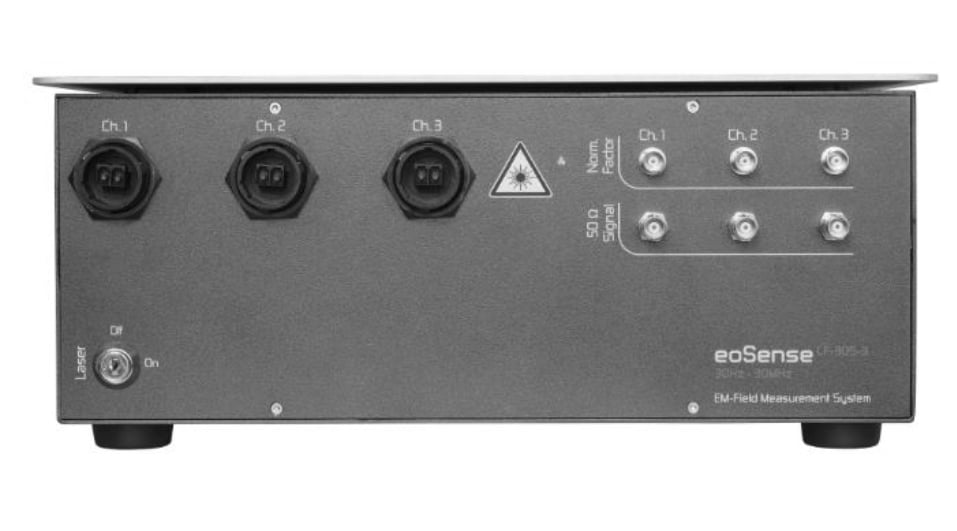 This opto-electronic converter must be used with the eoProbe sensors, a dedicated Kapteos software or dedicated instructions sent from your own software via the Ethernet port. It operates up to three directly connected eoProbes .
In real-time, the (100% analog conversion) the optical signal transmitted by the eoProbe is converted into an electrical signal that can be analysed with an instrument like an oscilloscope, a spectrum analyser. It includes an antenna factor (AF) real-time treatment for measuring absolute electric fields (modulus, phase). Each eoSense is delivered with a Routine Test Report valid for 2 years.
| Model | Bandwidth | Option |
| --- | --- | --- |
| LF-30S | 40 Hz-30 MHz | 30 dB (standard) |
| MF-01U | 1 kHz- 1 GHz | 50 dB gain |
| HF-10 | 100 MHz - 10 GHz | 55 dB gain |
| HF-20 | 100 MHz - 20 GHz | 45 dB gain |
| HF-40 | 20 kHz - 40 GHz | 48 dB gain |
Weight
approx 9 kg (for 1 channel version without AMP)
Operating temperature
+15 to +30 °C (59 to 86 °F)
Relative humidity
<= 95 % without condensation
Power supply
100 - 250 V AC, 50 or 60 Hz , 150 W max.
Front panel I/O
eoProbe connector: ruggedized UTS-LC (1/ch)
Signal output
50 Ω analog (1/ch)
* BNC type: LF and MF versions
* SMA type: HF-10 version
* 3.5 mm type: HF-20 version
* K female type: HF-40 version
Antenna factor correction:
1 x LED status
1 x Laser on/off key
Rear panel I/O
1 x USB 2.0 port
1 x Ethernet port
1 x Laser interlock adaptor (BNC type connector)
1 x ground screw
Videos
Useful Documents