Magnetic cores up to 2.1m x 2.1m, 1800kg and strip widths up to 0.6m.  There is virtually no limit on maximum strip width with stacked assemblies.
Cores can be supplied as an assembly of multiple cores stacked and bonded together. Stacked cores actually perform better because the voltage per lamination supported is divided by the number of cores stacked together. Thin epoxy layer can be applied to minimise sloughing of the outer layer, this is important in high voltage and oil applications.
Please call +44 (0)1793 784389 and speak to a member of our technical sales team to discuss your requirements.

Materials
3% Grain-Oriented Silicon Steel (GOS)
50% & 80% Nickel
Amorphous
Supermendur®, Cobalt-Iron High Flux
6.5% Non-Oriented Silicon Steel
Other Specialised Materials
Geometry
C-cores
E-cores
Uncased toroids including machined nylon, injection moulded, Aluminium and more
Pie type 3-phase cores, D-cores, bars and other custom shapes
Custom configurations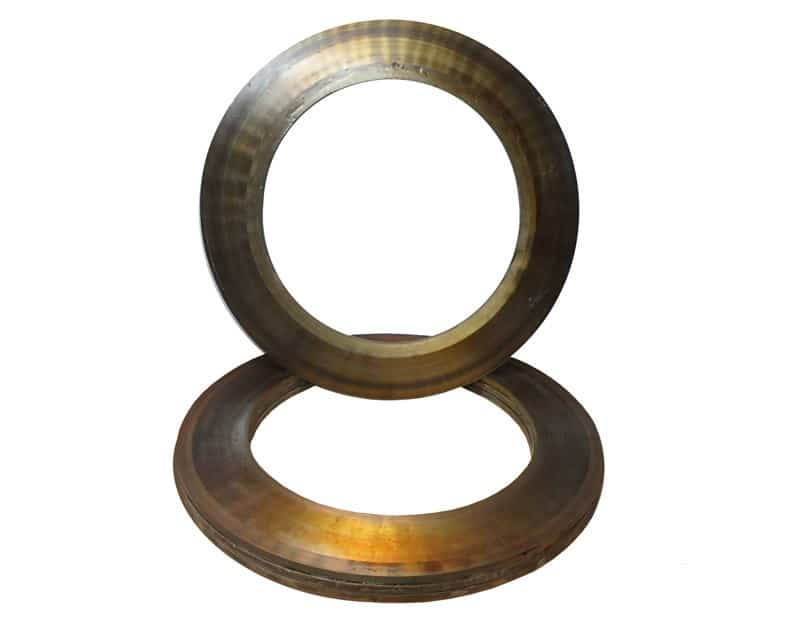 Case Studies
Ultra Low-Loss Amorphous Cores
Low-loss cores for inverters, energy storage application
Metglas 2605SA1 alloy in cut C-core geometry
Over 30% lower loss than other processes
Optimized annealing & bonding process
3 weeks from engineering to delivery
Custom Pulsed Cores
Pulse power transformer for medical imaging equipment
Special coating for high insulation resistance & breakdown voltage
30kV high power pulse test, pulse waveforms & data supplied
Custom tools for stacked assemblies
Energy Harvester Cores
Power harvesting for smart grid monitoring application
Tape wound technology for most efficient, cost effective solution
Specialised testing needed for qualification
3 weeks from engineering to delivery
Advanced Nanocrystalline Cores
High frequency applications utilising a variety of nanocrystalline materials
Custom computer controlled atmospheric conditions to optimise annealing
Large core sizes up to 2.1 metres
Typically 3-5 weeks with expedite available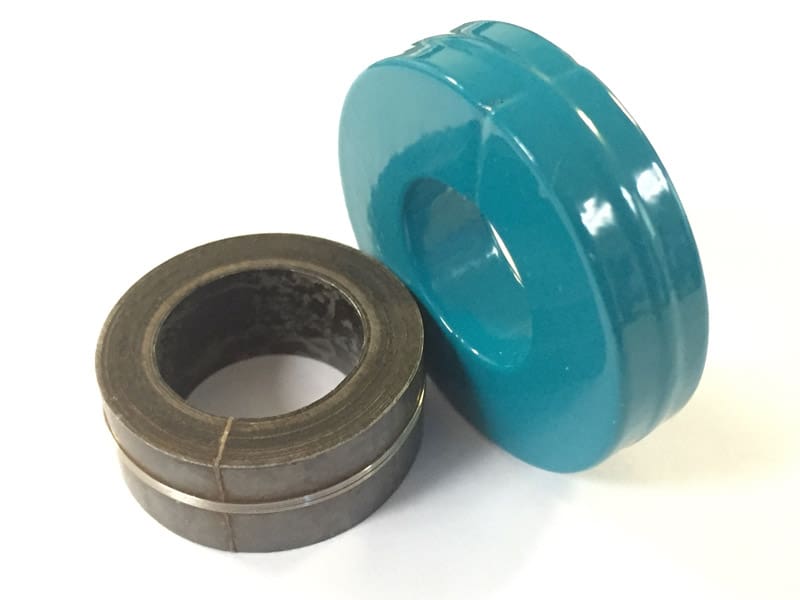 Magnetic Core Performance
The tables below show the performance of various magnetic core materials.
B (kG) is flux density in units of kilo-Gauss. Watts/lb and VA/lb are power loss and excitation VA when measured at the indicated flux (B) and frequency under sine wave excitation.
C Cores
| Material Description | Thickness (inches) | Space Factor (Minimum) | Maximum Watts/lb | Maximum VA/lb | Test Flux Density (kG) | Test Frequency (Hz) | Maximum Gap VA/inch2 @ .001" |
| --- | --- | --- | --- | --- | --- | --- | --- |
| 3% Silicon Steel Silectron®1 | .001 | .83 | 12.0 | 20.3 | 12.5 | 400 | 16.3 |
| | .002 | .89 | 10.0 | 15.0 | 15.0 | 400 | 29.2 |
| | .004 | .90 | 10.0 | 13.1 | 15.0 | 400 | 29.9 |
| | .004 | .90 | 15.0 | 39.5 | 17.6 | 400 | 41.1 |
| | .007 | .90 | 15.0 | 39.5 | 17.6 | 400 | 43.0 |
| | .009 | .92 | 0.89 | 1.7 | 15.0 | 60 | 5.0 |
| | .009 | .95 | 0.89 | 1.5 | 17.6 | 60 | 6.9 |
| | .011 | .95 | 0.89 | 1.7 | 15.0 | 60 | 5.0 |
| | .011 | .95 | 0.89 | 1.5 | 17.6 | 60 | 6.9 |
| | .012 | .95 | 0.89 | 1.7 | 15.0 | 60 | 5.0 |
| 80% Nickel-Iron Supermalloy®2 | .0005 | .65 | 12.0 | 18.0 | 5.0 | 10000 | 57.7 |
| | .001 | .83 | 14.0 | 21.0 | 5.0 | 10000 | 70.6 |
| | .002 | .89 | 20.0 | 30.0 | 5.0 | 10000 | 81.2 |
| | .004 | .90 | 15.0 | 22.0 | 5.0 | 5000 | 41.5 |
| 50% Nickel-Iron Deltamax®3 | .0005 | .65 | 30.0 | 40.0 | 10.0 | 5000 | 115.3 |
| | .001 | .83 | 37.0 | 47.0 | 10.0 | 5000 | 141.2 |
| | .002 | .89 | 55.0 | 70.0 | 10.0 | 5000 | 162.4 |
| | .004 | .90 | 3.5 | 6.0 | 10.0 | 400 | 13.0 |
| 50% Cobalt-Iron Supermendur®4 | .002 | .89 | 20.0 | 72.0 | 20.0 | 400 | 52.0 |
| | .004 | .90 | 19.0 | 66.0 | 21.0 | 400 | 58.6 |
| Metglas®5 2605SA1 | .001 | .82 | 16.5 | N/A | 2.0 | 20000 | N/A |
| Nanocrystalline Prime | .0007 & .0005 | .78 | 5.5 | N/A | 2.0 | 20000 | N/A |
| Nanocrystalline FT3-W | .0007 | .78 | 5.5 | | 2.0 | 20000 | N/A |
E Cores
| Material Description | Thickness (inches) | Space Factor (Minimum) | Maximum Watts/lb | Maximum VA/lb | Test Flux Density (kG) | Test Frequency (Hz) | Maximum Gap VA/inch2 @ .001" |
| --- | --- | --- | --- | --- | --- | --- | --- |
| 3% Silicon Steel Silectron®1 | .004 | .90 | 12.0 | 22.7 | 15.0 | 400 | 51.8 |
| | .004 | .90 | 18.0 | 68.4 | 17.6 | 400 | 71.0 |
| | .007 | .92 | 18.0 | 68.4 | 17.6 | 400 | 74.0 |
| | .009 | .95 | 1.1 | 4.0 | 17.6 | 60 | 11.9 |
| | .012 | .95 | 1.1 | 2.9 | 15.0 | 60 | 8.7 |
| | .011 | .95 | 1.1 | 2.9 | 15.0 | 60 | 8.7 |
| | .011 | .95 | 1.1 | 4.0 | 17.6 | 60 | 11.9 |
| 50% Cobalt-Iron Supermendur®4 | .004 | .90 | 22.0 | 120.0 | 21.0 | 400 | 101.0 |

 Datasheets