The BriPower ESA series uses bi-directional design, which makes it possible to be used as an AC power source or regenerative AC load. It can be used as a grid simulator in a variety of applications including Smart Grid, Microgrid, Energy Storage and Solar.
The ESA Series offers customised power, voltage, current and frequency ranges to optimise application and budget. The source can be also configured with constant output characteristics defined by the application. With the DC option this AC PSU can be extended to provide a DC output.
With TFT-Touch panel operation on the front screen, the user can control the power source with GUI software. System status indicators and an emergency stop button are installed on the front panel. Programming interfaces including RS485 and LAN interfaces are standard, while optional RS232 and analogue interfaces are available for automated test applications.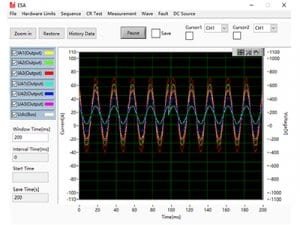 Graphical User Interface (GUI) software and auto-ranging output characteristics
Features
30 kVA – 2 MVA and above
Independent three-phase output
Voltage and frequency sequencing programming via GUI, slew rate can be programmed
Up to 40th harmonic waveform generation
Voltage drop simulation (LVRT for inverter test)
ON and OFF output phase angle can be programmed
Output can be shorted for short circuit test
Triger out, TTL signal output for voltage or frequency change
Mod-bus/SCPI protocols
Remote sense
Customised voltage, current and power ranges
Browse the table below or call us on +44 (0)1793 784389 and talk to a member of our team.

| Power Level | Voltage Range | Output current | Dimensions W x D x H (mm) | Weight |
| --- | --- | --- | --- | --- |
| 30 kVA | 0 - 300 V L-N | 46 A/ph | 800 x 800 x 1900 | < 800 kg |
| 60 kVA | 0 - 300 V L-N | 91 A/ph | 800 x 800 x 2200 | < 1000 kg |
| 120 kVA | 0 - 300 V L-N | 182 A/ph | 2 x 800 x 800 x 2200 | < 1700 kg |
| 250 kVA | 0 - 300 V L-N | 379 A/ph | 2 x 900 x 900 x 2200 | < 2500 kg |
| 500 kVA | 0 - 300 V L-N | 758 A/ph | 4 x 900 x 900 x 2200 | < 5000 kg |
Useful Documents