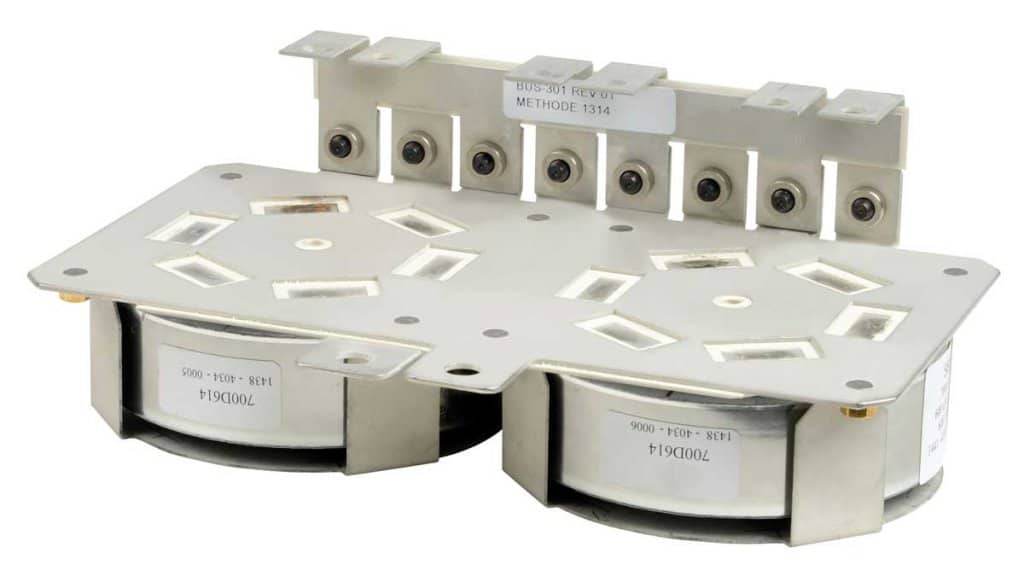 Starting in Q2, 2019, SBE is adding a new in-house laminated bus bar capability to support advanced cap-bus designs for critical customer partners.
Long leadtimes in the laminated busbar market
The laminated bus bar supplier market has seen quite a change over the past 24 months. A number of very capable players have either exited the business, sharply reduced their focus in this area, or have lengthened lead times to 12 – 25 weeks – even for critical orders. "Such long leadtimes are not acceptable for programs that need to quickly establish feasibility and baseline performance" says Mike Brubaker, Chief Technology Officer at SBE.
…long leadtimes are not acceptable for programs that need to quickly establish feasibility and baseline performance – Mike Brubaker – SBE Chief Technology Officer
The importance of the busbar lamination and short leadtimes for prototypes
Lamination of the bus is critical to minimize the spacing between the conductors and therefore minimize the inductance. It also provides insulation between layers of different polarity. "There is nothing new about this in terms of what SBE is doing – our reason for adding this capability is to reduce lead times.", says Mike. "The typical players in the bus industry right now are quoting lead times out to 25 weeks for prototypes. This is simply too long to support rapid customer development programs, so we are targeting a 4 week lead time for our internally made buses. Our objective is to get our integrated cap/bus structures into our customers hands for testing quickly to speed up design cycles."
SBE moving forward
"SBE's industry leading "Integrated Cap/Bus" design approach makes the partnership between SBE and the bus supplier extremely critical. SBE still maintains excellent relationships with the industry's top laminated bus suppliers and will continue to work with them for high volume production. SBE decided to start up a prototype bus bar line in-house to support key customers. Starting in late Q2/2019, we expect the complete turn-around time for a fully laminated and integrated cap /bus to be 4 – 6 weeks. These bus / cap designs have already proven to be the industry's highest power density and lowest inductance systems. Now with this new in house capability, SBE will deliver that critical first validation prototype when the customer needs it."
Useful links