SanRex Silicon Carbide (SiC) MOSFET modules are ideal for demanding applications such as motor drives, power supplies, high performance inverters and induction heating. The modules meet both the compact size and high performance requirements for these applications.
Benefits:
1. Compact Package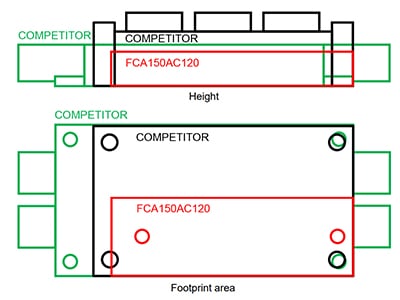 94 x 29.8 x 14 mm package
SanRex SiC MOSFET modules have the equivalent specifications of 300 A rated modules, whilst having a volume less than half that of competitor devices.
2. Innovative Die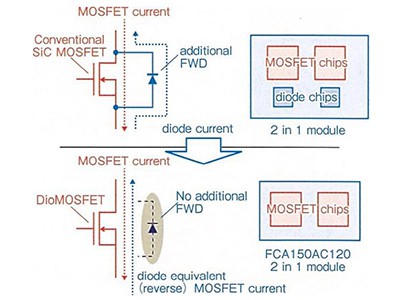 The die integrates a Schottky free-wheeling diode in a single device. The small package size and optimised internal layout offers minimised interconnect inductance for high speed switching.
3. Internal Construction

SanRex's 'Techno Block' technology uses top and bottom die soldering and transfer mould package design, instead of traditional wire bonding construction. This offers significantly improved reliability.
4. Reliability (Thermal Cycling)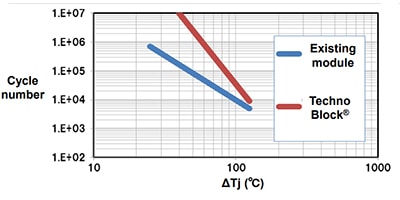 The Techno Block technology is robust and offers three times greater thermal cycling capability than standard industry packages. The modules are guaranteed for > 30,000 cycles at 50 – 150°C test conditions.
5. Short Circuit Capability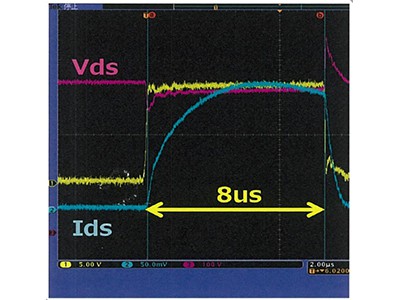 The SanRex SiC MOSFET has more than 8 µs short circuit capability. Reliability is maintained at transient condition while allowing easier design of short circuit protection.
6. High Gate Threshold Voltage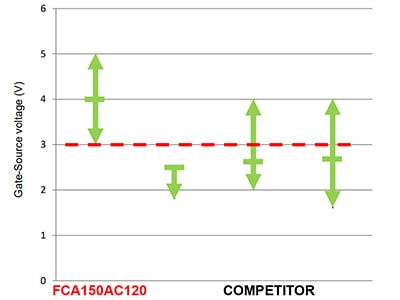 The modules offer 4 – 4.5 V typical threshold voltage for improved noise rejection.
7. Low RDS (on) at Operating Temperatures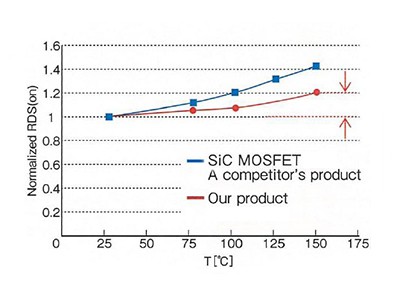 Normalised Rds (on) vs. Temperature
The Rds (on) curve for the SanRex SiC module is flatter than competitor products with a significant benefit at high operating temperatures, resulting in reduced cooling requirements.
Other products available from PPM Power for high performance inverter applications include DC link capacitors. Please contact us to make an enquiry, or to discuss your requirements with PPM Power's technical support staff.
Useful Links
Silicon Carbide MOSFETS and Diodes
SanRex Semiconductor Modules
SanRex SiC MOSFET Presentation Material